Leadership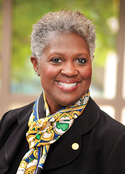 Christy L. Brown, J.D.
Chief Executive Officer
Girl Scouts of Wisconsin Southeast


Christy L. Brown is Chief Executive Officer of Girl Scouts of Wisconsin Southeast (GSWISE), a large council with more than 37,000 girl and adult members. During her tenure, Girl Scouts of Wisconsin Southeast has moved up to second in overall girl market share out of 112 councils. She was one of two CEOs selected to serve on the GSUSA's Movement Strategy Advisory Team, overseeing strategic implementation for the Girl Scout Movement. She also was recently selected as one of two CEOs in the GSUSA delegation at the 36th World Conference of the World Association of Girl Guides and Girl Scouts in Delhi, India.
Prior to this role she was vice chancellor, finance and administrative affairs at UW-Milwaukee, executive vice president and general counsel at Milwaukee Area Technical College, vice president and corporate counsel at Lutheran Social Services of Wisconsin and Upper Michigan, Inc., and associate attorney with Michael Best.
Christy is a director for Northwestern Mutual Series Fund, a trustee at Carroll University, and a member of the Downtown Rotary Club of Milwaukee, the Wisconsin State Bar, the Association of Women Lawyers, TEMPO Milwaukee, and the International Women's Forum.
In addition to receiving the TEMPO Mentor Award, Christy was recognized as a Milwaukee Business Journal Women of Influence (Inspiration) honoree and a recipient of the Waukesha County Women and Girls Fund Women of Distinction award. She earned her B.A. from Stanford University, and a J.D. and M.A. at Duke University.
Carita Twinem
Board Chair
Girl Scouts of Wisconsin Southeast


Girl Scouts of Wisconsin Southeast Board Chair Carita Twinem is the former vice president of tax with Spectrum Brand Holdings, Inc., a global consumer products company with market-leading brands. She was previously the treasurer and director of tax for Briggs & Stratton Corporation. She has also served as treasurer on the board of Girl Scouts of Wisconsin Southeast (2012-2016). 

Carita earned her bachelor of science degree in accounting from Marquette University and her juris doctorate from the University of Wisconsin Law School. She also received her masters of law in taxation from New York University and her executive MBA through Northwestern University. She is a certified public accountant and a member of the Wisconsin Bar Association.