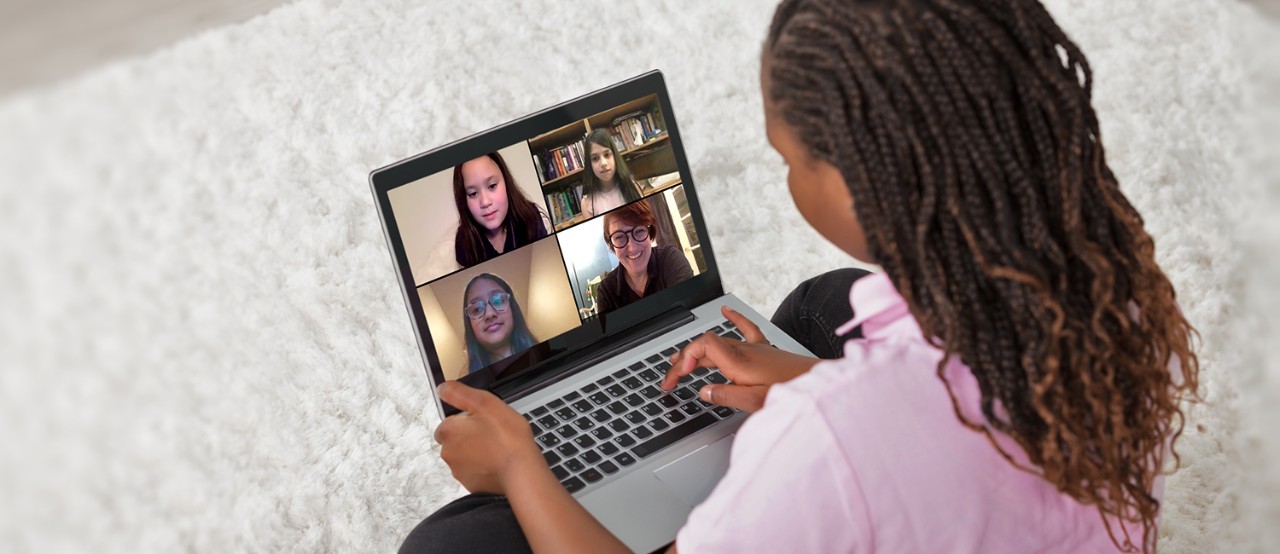 Renew
Keep her engaged and inspired in challenging times
In challenging times, our Girl Scout grit shines the brightest. That's why we're prepared to be a source of consistency for you and your girl when you need it most.

As we navigate through the COVID-19 pandemic together, we're working hard to ensure your girl has access to the Girl Scout experience she knows and loves in a way she can access right now. And as things continue to evolve and change, we'll continue to adapt to meet her needs. 
We know many of the things she was looking forward to are canceled right now, but Girl Scouts is still happening. From home and online, for as long as she needs to, she can:
Keep the Girl Scout experience going and stay connected while earning badges through online activities with the Girl Scouts at Home 
Participate in live virtual events and safe service projects that keep her engaged and inspired
Gain tangible, innovative problem-solving and life skills
Grow confidence in her outdoor skills and learn how to be a champion for the environment 
Expand her imagination through hands-on STEM activities 
The best part is that every experience and skill we can offer her right now will help her continue to be successful at school and in life when it's time for us all to come together again. 
Because while we have to remain physically apart right now, connection is more important than ever. Whenever you're ready to renew your Girl Scout membership, we'll be here for you.
Girl Incentives

| | |
| --- | --- |
| July 17 - July 30 | July 31 - August 16 |
| Free Patch & T-shirt | Free Patch |

Individually Registered Member (IRM) Incentives

July 17 - July 30
July 31 - August 16

Free Patch & T-shirt

$5 PAC valid until 9/30/2021

Free Patch

$5 PAC valid until 9/30/2021

Troop Incentives

July 17 - August 16

Extra cookie proceeds of $0.03 per box sold during 2021 cookie program. 

Troops eligible for incentives if 70% of girls in troop renew (membership based on girls registered as of 3/31/20.)

Troops need to submit cash reports by 7/30/2020 (as the latest.)

Trouble Logging In?

Q: Why isn't my username working?
A: Your username is typically your email address. If you have more than one email address, try each. You can also use the "Forgot Your Password?" link to send a reset email to your email address. If you're still having trouble, contact Customer Care at customercare@gswise.org or 800-565-4475.

Q: Why aren't I getting the password reset emails?
A: The password reset emails come from gsusacustomercare@girlscouts.org, so please make sure it's added to your safe senders list. If you requested the reset email before marking our email address as safe, check your spam folder. If you're still not receiving the email, contact Customer Care to verify that your username/email address is correct.

Q: How do I reset my password when I no longer have access to the email address associated with my account?
A: Our Customer Care team can change your username/email address without requiring you to recreate your account.

Q: Why can't I see my family when I log in?
A: There are a couple reasons this could happen:

Another adult family member may be listed as the preferred contact on the account. That person must log in to renew. Contact Customer Care if you'd like to be listed as your household's preferred contact.
You may have a second or duplicate account with a different email address. Try a different username. If that works, be sure to contact Customer Care to merge the two accounts into one.

Q: Why can't I see my troop(s) when I log in?
A: There are several reasons this could happen:

Troops are listed on a separate tab from your family. If you have more than one troop, look for the pull-down menu to change between them.
Check your member profile to make sure you're listed as a co-leader in the troop.
Not all troop volunteers can access the troop tab. Check with the council to see which volunteer roles they allow to access the tab.
If your background check has expired, you may lose access until it is up-to-date.

Need more help? Contact our Customer Care Team at customercare@gswise.org or 800-565-4475. Our business hours are 9:00 a.m.-5:00 p.m Monday through Friday.